Parents are required to contact the school every day for any absence other than holiday. Council policy is that we will contact a parent if a child is absent and no communication has been forthcoming from the parent. We may do this by phone or text message.
Parent or carers are asked to contact the school by telephone on the first morning of the child's absence. From 9.30am, if the reason for absence has not been clarified, a member of staff will phone home. If a child is likely to be absent for some time, parents/carers are asked to inform the school by letter or telephone.
Early Learning and Childcare Attendance
A child's entitlement to funded ELC will be 1140 hours (pro rata), generally arranged as 5 x 6 hour sessions over 38 weeks within the school year. However, some standalone units are offering a different pattern of provision. Information on what nurseries are offering can be obtained from each nursery or school or on the Council website.
Children who attend in a regular pattern settle well into the early learning and childcare routine, have the opportunity to build firm relationships with adults and peers and experience continuity of learning. During the induction period however, adaptations are made to meet the needs of the individual child.
Parents/carers are responsible for ensuring that their children attend school regularly and arrive on time. They are also responsible for ensuring the safety of their children on their journeys to and from school.
Regular and punctual attendance is linked closely to achievement and school staff wish to work with parents/carers to ensure that children can reach their full potential. The school is required by law to maintain an accurate record of the attendance and absence of each pupil and parents/carers are requested to assist in this process by keeping the school informed if their child is to be absent for any reason.
It is important to note that if a child does not arrive at school and there is no reasonable explanation provided for his/her absence then members of staff will be required to ascertain the whereabouts and safety of the individual child. In order to avoid causing unnecessary concern for staff and parents/carers, the importance of good communication between home and school cannot be over-emphasised.
Parents/carers are asked to assist school staff in the manner detailed below:
Parents/carers to contact the school office on 01631 563941 before 9:30am on each day of their child's absence.
Should children arrive at school after 9am but before 9:30am, they should enter via the front door and alert a clerical assistant of their arrival.
If a child will be arriving later than 9:30am, we ask that parents/carers please inform the school.
If a child is absent from school and their parent/carer has not informed the office, a member of clerical staff will phone home after 9:30am to ascertain the reason for the child's absence.
We ask that all parents/carers ensure their contact details are up-to-date with the school.
Parents/carers are encouraged not to arrange family holidays during term time but it is realised that, in exceptional circumstances, this is unavoidable. In such cases, parents/carers are asked to seek permission from the Head Teacher and provide information of the dates when the child is to be absent from the school in good time.
Except in cases of emergency, planned appointments for children to attend the dentist or doctor should be made out with the school day.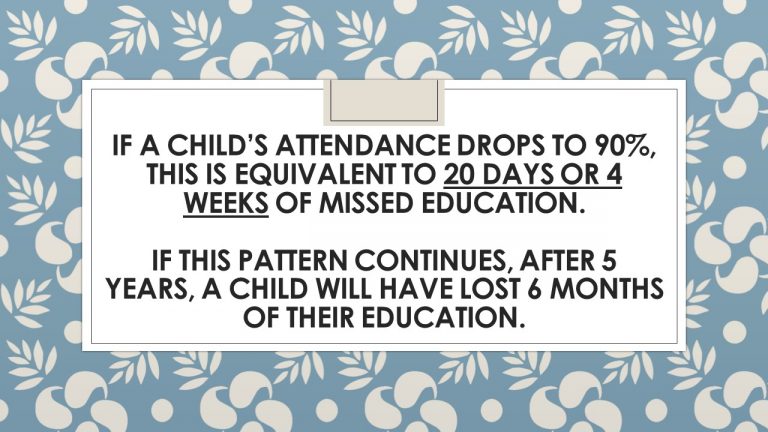 School attendance is required by law and parents of school age children must provide education for their children either by attendance at a public school or by other means. Schools in turn must maintain an attendance register and record child absence for each morning and afternoon school session.
At Park Primary School, we believe that regular attendance is an important part of giving children the best possible start in life, so we continue to work with our parents/carers to ensure high levels of attendance at school.
Over the past 5 years, our attendance rate has remained consistently between 95 and 96%, and rises to 99% when authorised absences are included.