With COVID regulations in place, we must encourage safe movement around our school.
We will have a one-way system around the school and pupils should only need to leave their classrooms to use the toilet. Each class will use their fire door for outside access. 
Our gym hall/dinner hall will not be used for the time being and P.E. will take place outside. As pupils are not allowed to mix class bubbles, school lunches will be brought to classrooms. 
When accessing the toilets, should 5 cubicles be available then 5 pupils will be allowed in the toilets. Pupils will use a 'toilet card' system to ascertain whether they can access the toilet immediately or will need to wait outside until a cubicle is free. This is to limit the number of pupils mixing from different classes.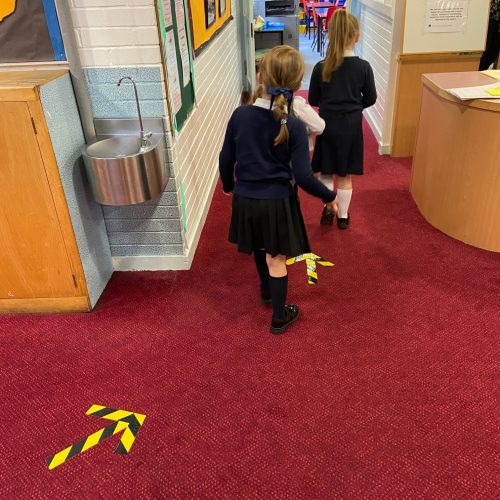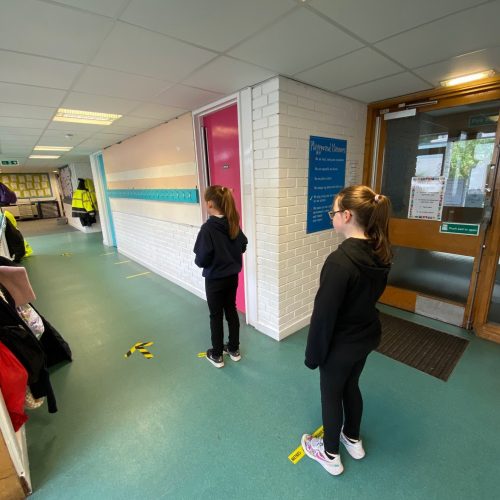 Not only is there a one-way system in place inside our school building, we also have a one-way system in place outside the school building. When dropping your child off in the playground, we ask that all adults walk around the outside of the building, following the arrows on the ground.
Please do not loiter in the playground.
Pupils have a designated zone to play in on arrival. The short clip below provides further information.
Thank you for your support with helping to ensure all of our pupils and adults are safe.